FOR IMMEDIATE RELEASE
Contact: Sandy Henderson, Vice President Sales
Lay It Out Events
Phone: 541-323-0964
Email: sandy@layitoutevents.com
Website: www.bendwinterfest.com
Largest rail jam in the Northwest to offer over $5,000 in cash and prizes.
Bend, Ore. – Jan. 4, 2012. The U.S. Cellular Rail Jam brings top Northwest skiers and snowboarders to the 2012 OnPoint Community Credit Union Bend WinterFest presented by American Family Insurance. The largest rail jam in the Northwest will offer its biggest cash and prize giveaway ever, with over $5,000 up for grabs during the Friday, Feb. 17 and Saturday, Feb. 18 competitions at the festival center, 344 NW Shevlin Hixon Drive in the Old Mill District. Admission is free with a WinterFest button and 6,000 spectators are expected each night.
The ski competition kicks off Friday, Feb. 17 at 5 p.m., and the snowboard competition begins on Saturday, Feb. 18 at 5 p.m. The U.S. Cellular Rail Jam finals will take place during the music mainstage's headlining sets, with a crowd of thousands cheering on regional and national talent as they attack the 100-foot-long, 30-foot-high Rail Jam. More than 50 tons of snow will be trucked down from Mt. Bachelor Ski Resort, allowing both skiers and snowboarders to perform their most technical and progressive tricks while getting some serious air.
Skiers and riders will be competing for over $5,000 in cash and prizes from REI, Norgeboards Paddleboards, Aspect Board Shop, and Blackstrap Apparel and Action Sports Wear, and the title of 2012 U.S. Cellular Rail Jam Champion.
Applications for 2012 U.S Cellular Rail Jam are still being accepted. Call Lay It Out Events at 541-323-0964 to register.
About Lay It Out Events
Lay It Out Events is Central Oregon's premier event company, offering the best in consultation, design and implementation. Producers of Bend's most popular events including Bend WinterFest, Bite of Bend, Balloons Over Bend, The Little Woody and the Snowriders Summit, Lay It Out Events is at the forefront of Central Oregon's most successful events. For more information, visit www.layitoutevents.com.
FOR IMMEDIATE RELEASE
Contact: Sandy Henderson, Vice President Sales
Lay It Out Events
Phone: 541-323-0964
Email: sandy@layitoutevents.com
Website: www.bendwinterfest.com
Death Defying stunts return to Central Oregon with the Metal Mulisha and the largest Rail Jam west of the Mississippi!

Bend, OR November 9, 2011 – Bend WinterFest, the largest winter festival in the Pacific Northwest returns to the Old Mill District for Presidents Days weekend on February 17, 2012. With American Family Insurance as Bend WinterFest's new presenting sponsor, and OnPoint Community Credit Union in its second year as title sponsor, Central Oregon can be assured of an even bigger festival you won't want to miss. With the same sweet set-up as previous years, including an ice carving contest with $3,000 in cash and prizes, a European-style food and art market—plus newly added performance art, food vendors, wine walk, live music, Snow Warriors, and Shakespeare—WinterFest 2012 is prepping to be a good one.
"We're delighted to have American Family Insurance aboard this year as our presenting sponsor. They are a nationwide company, which allows us to tap into a even wider audience," said Vice President of Sales for Lay It Our Events, Sandy Henderson. "We were so delighted by the success of Shakespeare in the Park, we've decided to bring our director, Grant Turner back to Bend.  Turner will present his one man show 'Good Will' about Shakespeare's life, times and work at the Old Stone Church during WinterFest week."
Along with OnPoint Community Credit Union and American Family Insurance, many local businesses have come together to continue to support the force that is Bend WinterFest. This year's sponsors comprise an extensive list—including Bend Research, which brings the well-received OMSI Kid's Area back for its second year in a row, and U.S. Cellular, which sponsors the ever-popular rail jam. The OMSI Kid's Area brings an extraordinary assortment of interactive and hands-on displays from Portland, made possible by Bend Research. OMSI also gives presentations every hour, allowing kids and adults alike to learn more about gravity, physics and other scientific principles. Also appearing again this year will be Metal Mulisha legend, Justin "Holyman" Homan, guaranteed to wow the WinterFest crowd with his freestyle motocross tricks and turns.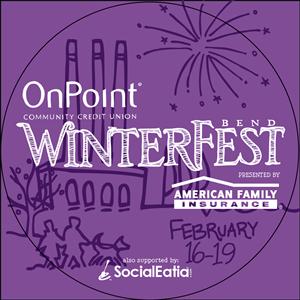 "Bendites are very competitive," Henderson continued. "Our newest event, Snow Warriors will allow them to compete in a 2K race that includes fire pits and an obstacle course guaranteed to test the inner resolve of the most hardened competitor. We're thrilled that OSU Cascades has chosen to support WinterFest by sponsoring this event."
Not for the faint of heart, Snow Warriors is an outrageous, fun and challenging event. Sprint from the start and traverse the course through crazy obstacles and terrain that includes mud, snow and ice.  Prepare yourself to climb over, through and under extreme obstacles along the way to the ultimate finish – a climb up and slide down the WinterFest RailJam into the beer garden. Warm clothes and running shoes are the only required "gear," but extra points will be given to participants in costume! Climbing up cargo nets, swinging from trees over mud, running through ice and snow pits as well as leaping over live flames are just a few of the obstacles Snow Warriors will encounter.
A full music lineup sponsored by Amalia's and Mt. Bachelor will be announced December 1st at www.BendWinterfest.com.  Button pricing and a participating list of Central Oregon businesses offering button discounts will also be available. Restaurants will play a heightened role this year as local Bend company, Socialeatia includes local eateries in the popular program.
For additional information, please go to www.BendWinterFest.com or contact Lay It Out Events at (541) 323 0964.